In version 3.20 of Trade Manager, we added a few minor features that will certainly improve the program functionality.
New additional options of panel zoom: 80%, 200%, 225%, 250%
We have added additional levels of the panel zoom (200%, 225% and 250%) and one option to reduce the panel (80%).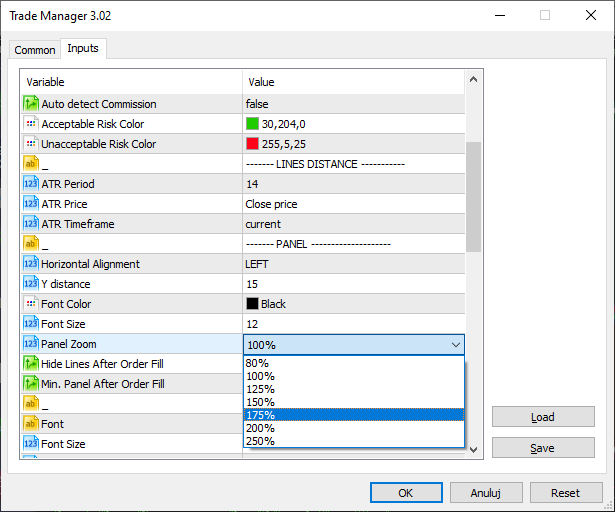 Added a dialog box where you can set the exact level of the opening price
In previous versions of the program, it was possible to set the exact order opening level by changing the properties of the horizontal line representing the order opening level. After introducing the new version of the open / stop / target block, it is not possible to edit the lines, so we added a window where you can set the price.
You can open the window by holding the Ctrl key and left-clicking on the opening price bar.
After confirming the change with the OK button, the opening level in the block is moved to the defined level.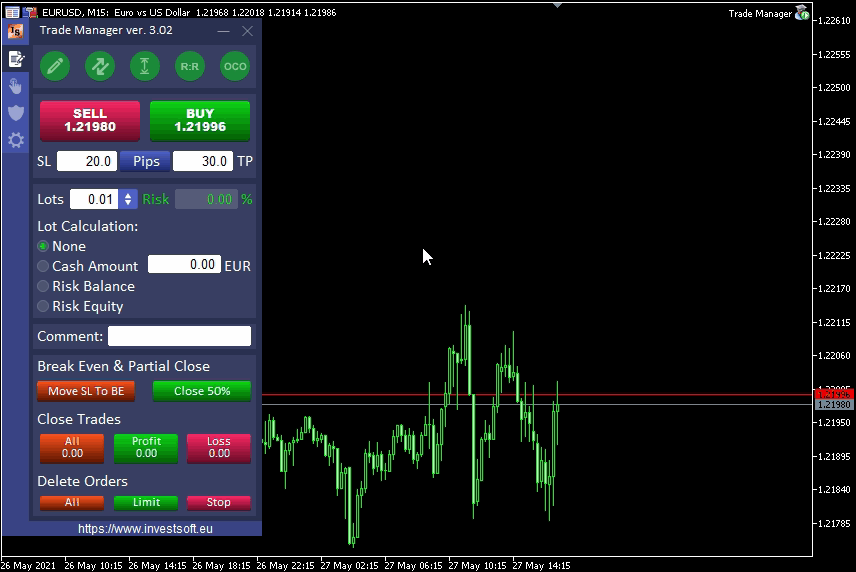 Including commission in lot calculations
More and more brokerage accounts have low or no spreads but a commission is charged when opening (and sometimes closing) the trade. This is the cost of the transaction and should be included in the transaction size calculations.
In version 3.20 of the program, we added the option to define a commission for each 1 lot of an opened transaction in the configuration field.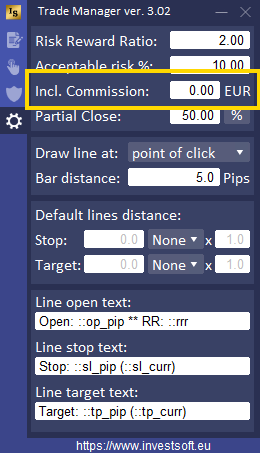 ATTENTION! Enter the sum of the commission of the opening and closing of the transaction.
This value is taken into account when calculating the transaction size and affects the SL and TP values ​​in the account currency displayed in the block.
In the program parameters you can turn on the "Auto detect Commission" function (set it to TRUE), so program will try to read the commission amount for 1 lot for the current symbol based on the order history in the moment of program run.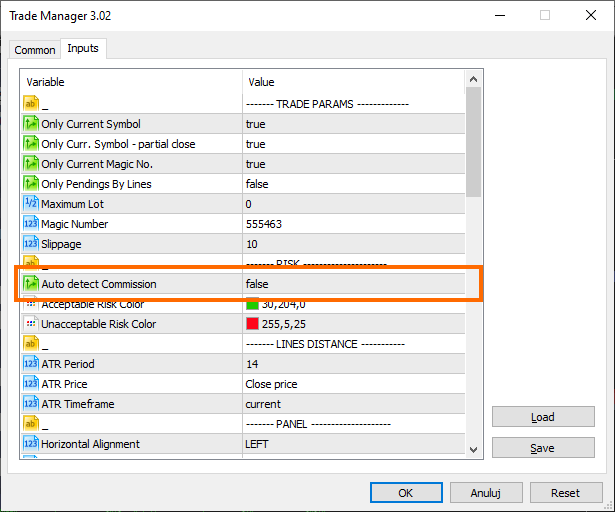 Two pin states SL and TP
We introduced two states of pinning SL and TP.
With a single click on the pin button, we pin the SL or TP level so that when changing the opening level, SL and TP are stay the same, but we can drag these levels with the mouse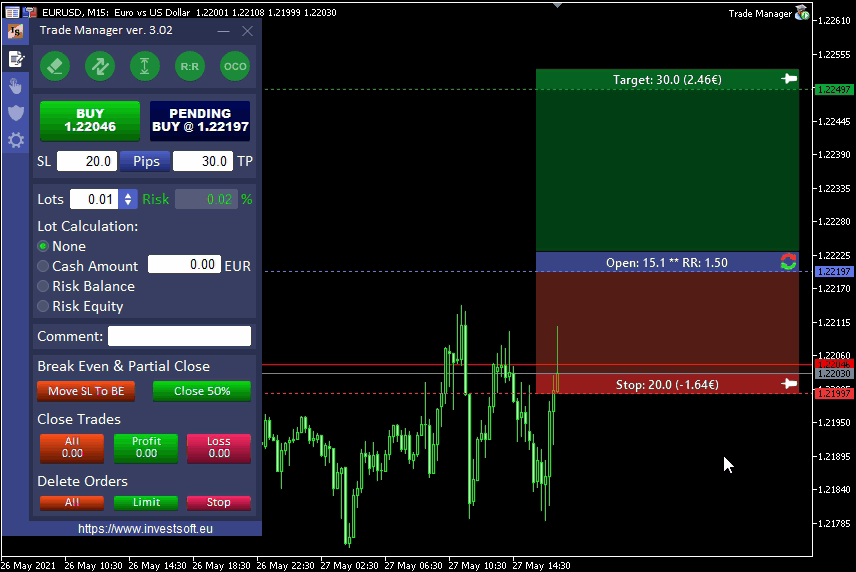 When double-clicking on the pin button, a red dot appears on the pin and makes it impossible to change this level even by clicking and dragging with the mouse.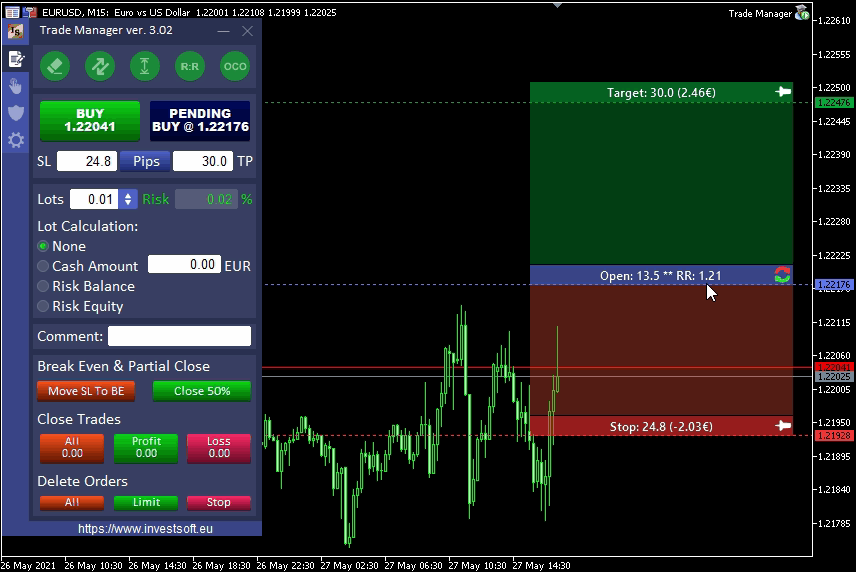 Support for symbols with lot lower than 0.01
If we run the Trade Manager on a chart where the lot can be set below 0.01, the program will automatically adjust the formatting and the minimum value of the lot to the setting according to the symbol specification.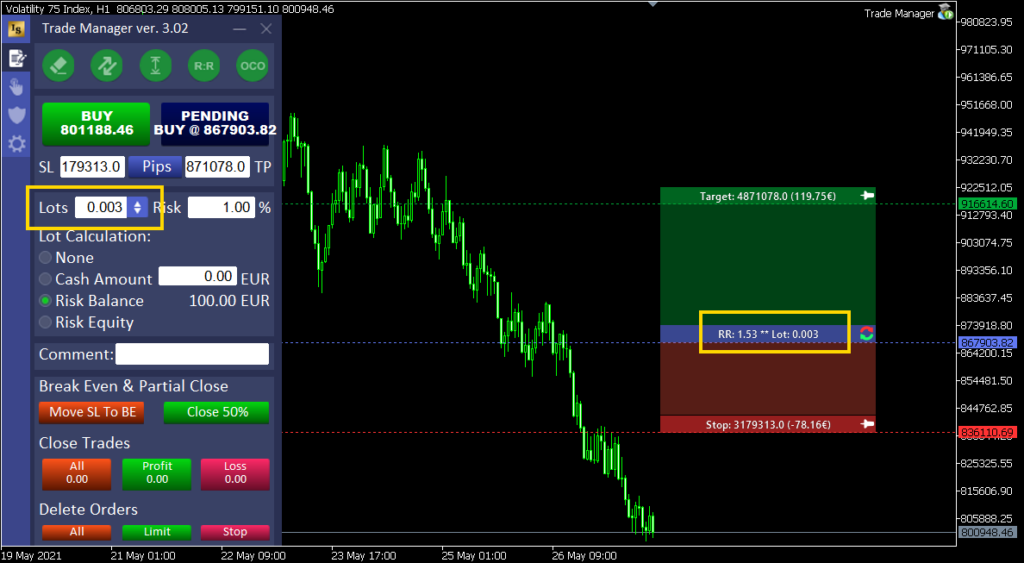 Other changes
The rest of the changes to the program include:
improvement of the prefix and suffix auto-detection procedure
exclusion of the import of SL and TP values ​​from the settings of other symbols