The partial close is a feature that allows you to only close part of a trade, therefore securing at least a small profit from early close on a portion of that trade or perform a phased exiting from a losing trade.
In Trade Manager, you can perform partial trade close automatically or manually.
Manual closing part of Trade
On the panel in the main tab is a button to close part of the trade.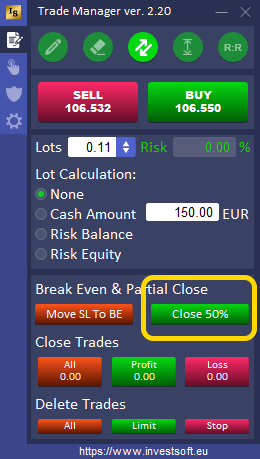 What part of the transaction will be closed after clicking the button can be set in the program configuration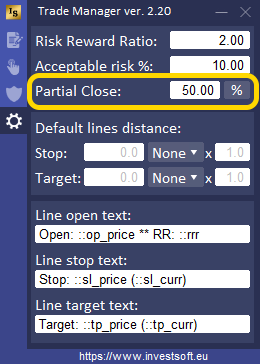 We can choose value in lots:

or as a percentage

If you choose a percentage, the value is calculated according to the current transaction size, e.g.:
If we set 50% and we have an open order of for example 0.24 lots, then after clicking the "Close 50%" button Trade Manager will close 0.12 lot of the transaction. After re-clicking "Close 50%" 0.06 lot will be closed, the next click will close 0.03 lot and so on..
Automatic closing part of trade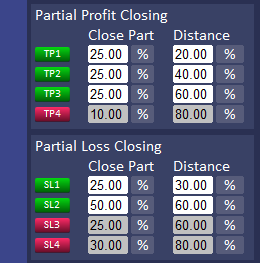 With automatic setting of partial order closing, we set parameters in the panel and they apply to all transactions.
We can set up to 4 levels of partial closings in profit and also max. 4 levels of partial closing of trades on a loss.
For each stage of closing a part of the transaction, we can define the size of the part to be closed and the distance from the opening price.
The size of the part to be closed can be specified in lots or as a percentage of the initial order size.
The level where the part of the trade should be closed also can be defined as the distance from the opening price in pips or as a percentage of the distance from the opening price to the take profit or to the stop loss.
For a Partial Profit Closing there is a 3rd option to set distance to close part of trade and this is Risk Reward ("rr").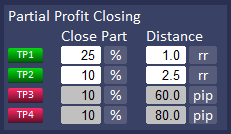 If you set the value rr = 1.0, then part of the order will be closed when the current price is in the distance equal to the distance SL. If the value is set to y = 2.0, part of the order will be closed when the price is 2 x SL and so on.
Attention! The partial closing based on the Risk Reward distance works only if the Stop Loss is below the opening price for BUY orders or above the opening price for SELL orders. Therefore, do not use this option in conjunction with "Break Even" and "Trailing Stop" functions.
Some examples below: